How does Salud Mesoamérica 2015 work?
Operating Model
Comprehensive health packages
To define the set of interventions that will be financed as part of the Initiative in each country, we analyze the main health problems in the poorest 20 percent of the population. We also analyze the barriers—in terms of both demand and supply—to access and use and the availability of basic health services for that poorest 20 percent of the population.
Depending on the country's priorities, we determine the main areas for action, as well as the processes and build-up of capabilities necessary for a sustainable implementation. In this way, we design the most suitable strategy for reducing mortality and morbidity in women of reproductive age and children under five years of age who live in the poorest areas in the region. Our overall objective is to reduce health equity gaps in Mesoamerica.
The interventions proposed and considered for financing are interventions that have had a demonstrated impact on the improvement of the health and nutrition of the populations. These are interventions that have been structured as strategies provided for women of reproductive age and children under five years of age during the most critical stages for health services (reproductive age, pregnancy, giving birth, the post-partum period and the first five years of life). The strategies for these population groups include integration of maternal and child health services, family planning, immunizations and nutrition at each stage identified. The Initiative's model seeks interventions that are not carried out as isolated medical treatments or vertical programs, rather in an integrated way.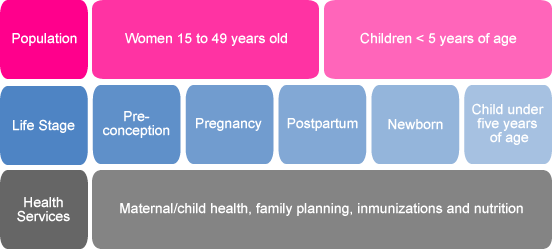 What makes us different?
What are the results expected?
Operating model
"The Initiative is based on a solution that is a new paradigm for public/private partnerships."
Carlos Slim
President of the Carlos Slim Foundation